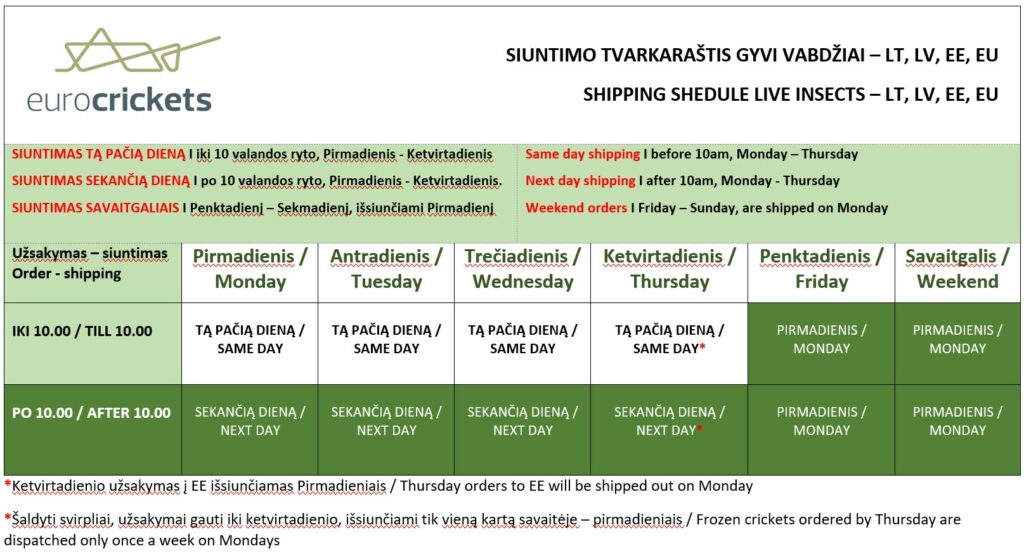 Goods are shipped only on weekdays. After placing the order after 10.00 a.m., the goods will be sent the next working day.
We send all e-shop shipments from Vilnius.
Items ordered on Friday, Saturday, Sunday will be shipped on Monday (or the next business day).
Live crickets, frozen crickets and all dried products are shipped in Lithuania, Latvia, Estonia.
Orders for frozen crickets are accepted during the week until Thursday. All orders for frozen crickets received before Thursday are dispatched once a week on Mondays. Frozen insects are shipped by parcel in Lithuania, Latvia, Estonia
Live crickets and all dried products are shipped throughout Europe
Goods are sent by Bus Consignment, DPD and Omniva couriers and post offices.
Europe delivery 3-5 working days.
There are two delivery methods for Autobusų siuntos:
Pick up at the bus station terminal: Lithuania – all cities with a bus station terminal, Latvia – Riga, Estonia – Tallinn.
Delivery with bus courier: Lithuania – Vilnius, Kaunas, Klaipeda, Alytus; Latvia – all cities, Estonia – all cities.
If you send via DPD or Omniva courier service, the parcels will be delivered to the address you specify.
When sending via DPD or Omniva post offices, only collection at the post office is possible. If you order live crickets, please collect your parcel as soon as possible to ensure a higher percentage of surviving insects. The longer you delay in collecting the consignment, the less likely it is that all insects will survive.
If you want to agree on the international delivery of goods, contact us directly by specified contacts and together we will find a convenient way for you to deliver the goods.
Thank you for purchasing the Eurocrickets online store!